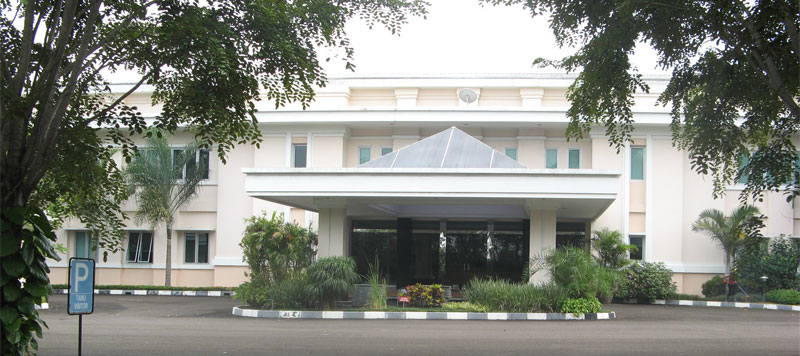 PT Polyfilatex was founded in 1994 by Arto Hardy family and is known today as a FILA licensee and sole authorized distributor in Indonesia after signing a licensee agreement with FILA Holding S.p.A, on July 21, 1999.

FILA Holding S.p.A, headquarterd in Luxembourg is a leader in the design and marketing of athletic and leisure time footwear, sportwear, casual and leisure wear. It has created brand awareness by marketing design and stylized products, which as the same time, ensured the support and interest of qualified professional athletes from around around the world.

We currently have 260+ FILA outlets/showroom in several cities in Java, Bali, Sumatera, Kalimantan, Sulawesi, and Papua.

Backed up by a Research and Development Department together with a strong leadership and young creative teams supervised by the Management and FILA headquarters in Luxembourg; we design, develop and manufacture things to the highest standard quality of its material being used for production. Quality inspections at the factory were carried out intensively with possible 100% inspection rate for complex design.

In addition to significantly increasing its presence in these markets, the aims of this goals is to strengthen and widen the brand visibility by creating a direct contact with a strong communicative impact to the final consumer. It will be accomplished by introducing the complete apparel and footwear collections in such a way as to modify the market needs and the perception of FILA in the most important and vast markets such as Indonesia.

We, as Polyfilatex team in Indonesia, Quietly confident. Smart. Original. Love sports. Aware of trends but not a slave to them. Mature but not grown up. Cool without trying to be. Value health, friends, family, neighborhood. Globally conscious and locally active. Not too good for anybody. Self-aware but not self-absorbed. Like to laugh and to think. Seek authenticity, value, fun, truth. Always striving to balance heart, soul, mind, and body. We are then called ourself FILA family.

Our Products
Made of 100% cotton, Poly Cotton, 100% Polyester, Microfiber, Nylon, Leather & Synthetic Leather:
Sport Apparel, Executive / Classic, Casual Wear, Sport Shoes, and Sandals.

Accessories:
Boston Bag, Caddy Bag, Back Pack, Golf Bag, Wallet, Socks, Caps, Belt, Hat.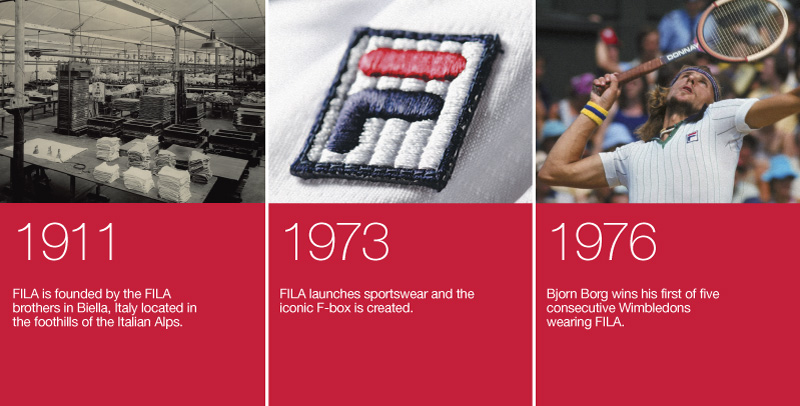 1911 - The Beginning
Fila was founded in 1911 in Biella, Italy located in the foothills of the Italian Alps. The Fila brothers' business started with textile & knitwear.
1942 - A steady expansion
Throughout the years, the business grew beyond the borders of Biella to become a well-known quality knitwear producer for Italy. In 1942, the company merged with the Fratelli Fila company. By 1972 had sales of over one billion lire and a total workforce of more than 250 people
1973 - Introduction to Fila Apparel: The White Line
As of the company prepared for its bold debut into the sportswear industry, Frachey tasked two men with ensuring its success: the innovative designer Pier Luigi Rolando, the artist behind our most iconic designs, and Alessandro Galliano, the superbly knowledgeable engineering director. Inspired by Frachey's own climbs on the cliffs near Biella, Rolando and Galliano began their work with the understanding that sport is life expressed through motion, and that sportswear must complement, not overpower, the athlete. They set to work creating fabric designed to mirror the movements of the athletes themselves, adhering smoothly to the body like a second skin yet providing a sense of total freedom.
The product of this collaboration was Fila's premiere outerwear collection, which debuted in 1972. Rolando's designs, utilizing wool and cashmere in novel ways, quickly became renowned for their seamless combination of grace and vigor. The following year, Fila's name was firmly established through the sports apparel industry with the introduction of the now legendary White Line collection. Named as a respectfully irreverent jab at the traditional product lines and the ubiquitous presence of all-white garments that had long dominated tennis apparel, the White Line collection was a fusion of the provocative and exemplary. The collection, aesthetically astonishing in its novel design and unconventional use of vibrant colors, yet beautifully simple in its effectiveness and function, immediately took the world by storm. The premiere collection marked the dawn of a new era, not just in Fila's history, but in the sportswear industry as a whole.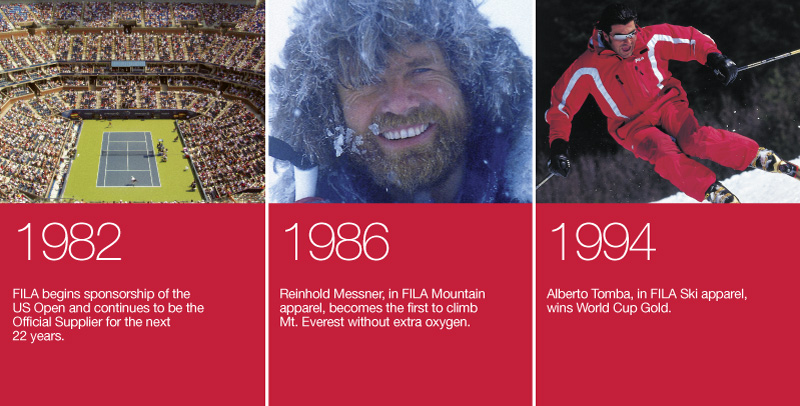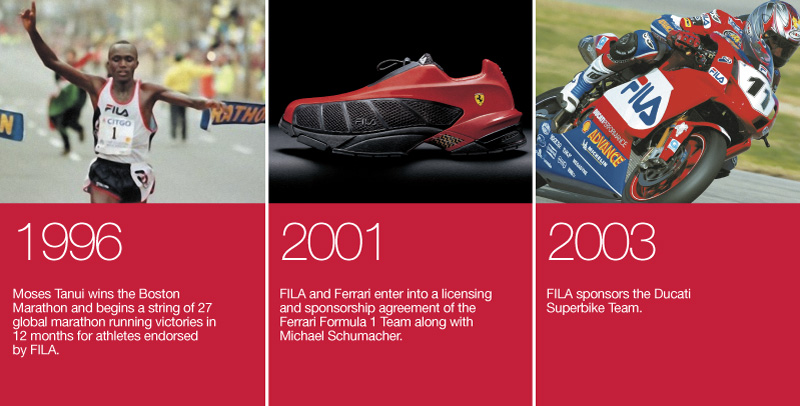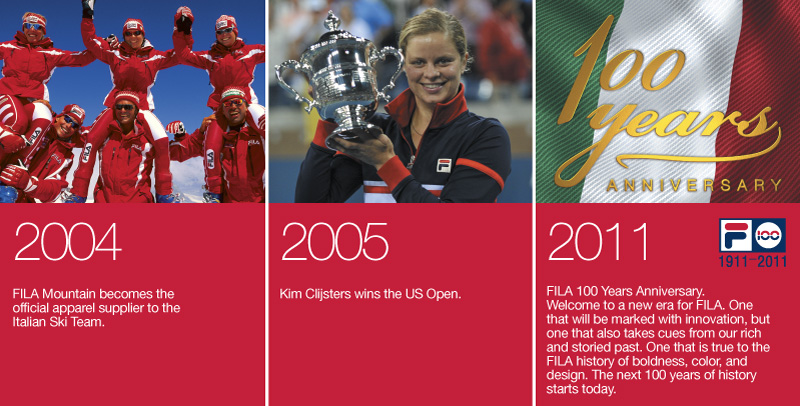 2011 - 100 Years of Fila
In 2011, Fila celebrated the 100th anniversary of the company.
A century after its humble beginnings, Fila has become synonymous with performance and sophistication. Worn not only by internationally recognized athletes, but also the fashion conscious, Fila uses premium fabrics designed to radiate the sophistication of Italian craftsmanship, while allowing maximum flexibility and performance.
Our legacy of style earns us admiration to this day. Whether you perform for the challenge of adventure, the rigor of competition, or simply the pleasure and well-being of an active life, Fila understands that the beauty of sport is that of a life in motion.